The title of this article, "the best class B camper van" is a bit of a click-bait one but it attempts to address a question people often have of what is the best Class B van. There is no one right answer to this question. If you were to hire an expert RV consultant to help you find the best class B van, she would probably start with an extensive interview with you. This post is designed to help get started being your own consultant with a set of questions to ask yourself (and any fellow travelers on your adventure). Before giving you this guidance, let's look at the opposite question.
Above image courtesy of Winnebago Industries, Inc. Unauthorized use not permitted
What is the worst Class B camper van?
Arguably, one of the worst Class B camper vans in terms of build quality and design is the Carado Banff. According to the CEO of the company it was designed by "mostly newer engineers and people" "without any Roadtrek or Hymer engineering influence" and one design criteria was that it had "to be built in 45 minutes of labour time." That seems like a recipe for a not great product. Even knowing the design and quality problems, it was the first van I considered getting. Why? The price was great and there were parts of the design I liked.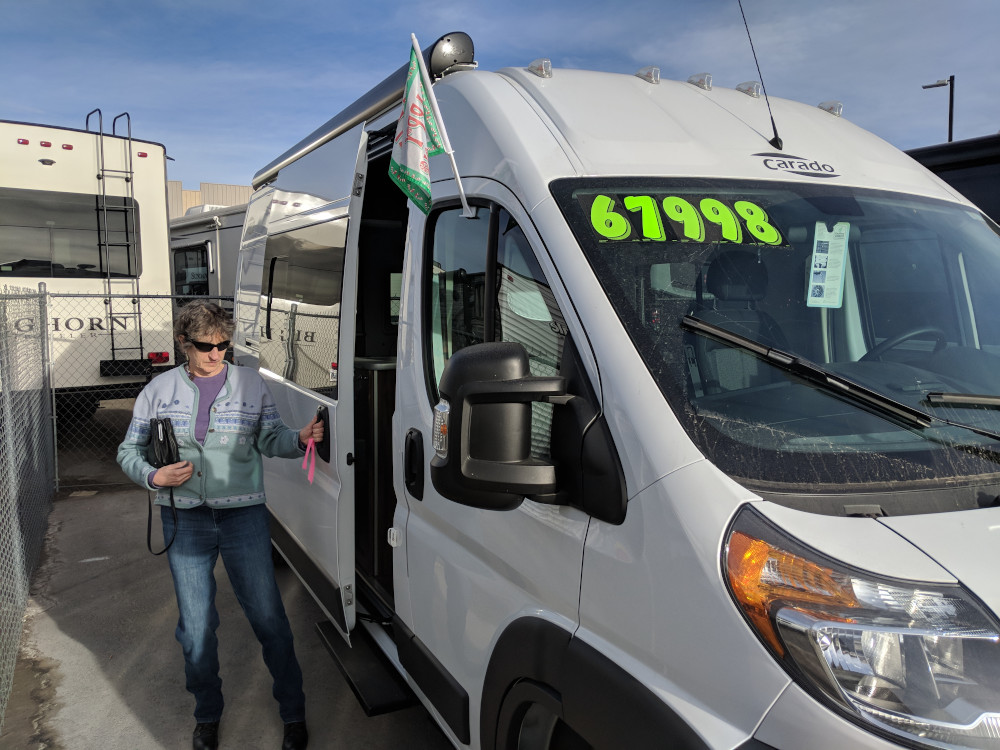 Unlike me, there are a large number of people who actually bought that van. I am still a member of a Facebook group for the van (Carado & Sunlight Owners Group) and I can tell you that the owners of the van are as happy as the owners of vans from other companies. The group is a collection of resourceful individuals who help one another with the quality problems, but those problems don't seem to diminish their joy of vanning around. The Carado Banff was a good match for these people and it enabled them to venture out.
So the point is— keep your eyes open and be aware of the pros and cons of the vans you are considering, but also keep your mind open to the possibility that a van that didn't get stellar reviews on a YouTube video might still be a good match for you.
The reverse is also true. Just because a couple on YouTube is using van X doesn't mean it is the right one for you. Maybe it is and maybe it isn't. You need to do the research. On the other hand, don't get intimidated by the myriad of van choices. You will quickly start narrowing down your list when considering the following questions:

How do you intend to use the van?

Who is going with you?

What are you bringing along?

What are your sleeping requirements?

What is your budget?
As you can see, these questions are common sense and perhaps you have already done this analysis. If so, congratulations. For the rest, let's get started.
How do you intend to use the van?
Your vision of how you intend to use the van may be fully formed and based on years of experience.  Perhaps you've owned a travel trailer and now with your children gone you want a smaller, more nimble rig. Or perhaps you are an avid mountain biker and want to get a van as a support vehicle. Or you've done dog agility for years and you want a camper van to travel with your dogs to competitions in your region.  
But maybe your vision of how you would use a van is more vague. You have a dream of visiting National Parks but the last time you camped was as a child with your family. Maybe you have dreams of an epic road trip or a trip to Alaska or weekend trips to the state parks in your area. Regardless of how solid your vision is, before looking at all the different types of vans it is worthwhile to sketch out both your general vision and  a few future trips. For example,
"We are celebrating retirement by spending some time exploring the national parks. We'd like to head to Yosemite and then on to Zion, Bryce, Capital Reef, Arches, Grand Teton and Yellowstone!  We are really looking forward to connecting with nature. Do some hiking. We don't want to be driving long distances everyday. We want to stay at a spot for at least a few days. It would be nice to camp in a remote area but we don't see ourselves traveling on rugged jeep trails. During the day we might drive somewhere to hike and then come back to our camping spot in the afternoon to relax, read outside, maybe cook by a campfire. We are in our early and mid 60s FYI." – Ann M.
"My husband and I want to get a van so we can visit family and friends. We are first time RVers.  We intend to travel from Northern Virginia (home) to San Francisco CA where our son and daughter in law live and at some other time, travel to Vancouver to visit our other son, and to Florida to visit my parents. Our plan is to either stay in relative's driveways or at established campgrounds.  We want the van to be comfortable–sort of like a hotel room substitute." – Abigail B.
"I am a software developer and my company allows me to work remotely. My girlfriend is in a similar position. Our plan is to get a van and travel the country while we work. For example, boondock in a nice spot in Oregon for a few days to a week, work 8 to 10 hour days and then relax the rest of the time. I need a workspace and storage for work gear (laptop, tech etc) and then all the fun stuff, kayak, bike, SUP, chairs, table, plus clothes for different climates." – Brandon O.
Get as specific as you can about the trips you envision. You want to start fleshing out your requirements. For example, Brandon and his girlfriend would benefit from a van with a dedicated lounge/work space, which is something Ann doesn't necessarily need. For Abigail a lithium system would not be a high priority. 
A related question is on a very rainy cold day when you are stuck in the van for the day, what do you see yourself doing? 
Watching YouTube camper van reviews is fun but you don't want to clone some YouTube couple's vision of van life. What is it that you <insert your name here> want to do? Imagine going out to dinner with a friend and you are conveying your dream with passion and excitement! What would that dream be?
It helps to write it down (as well as writing the answers to the rest of these questions).
This is an easy one. Are you going on your van adventures alone? With your partner? children? Pets? If a partner is involved what are their requirements? If you have a dog, how big? Are there times when the dog will stay in the van and you venture out?
Aside from the gear and clothes you need to live in a van for the span of time you trips last, what other gear are you bringing? Mountain bikes, paddle boards, kayaks, photography equipment? There is limited space in a van and it is helpful to get an understanding of your needs before looking at individual vans.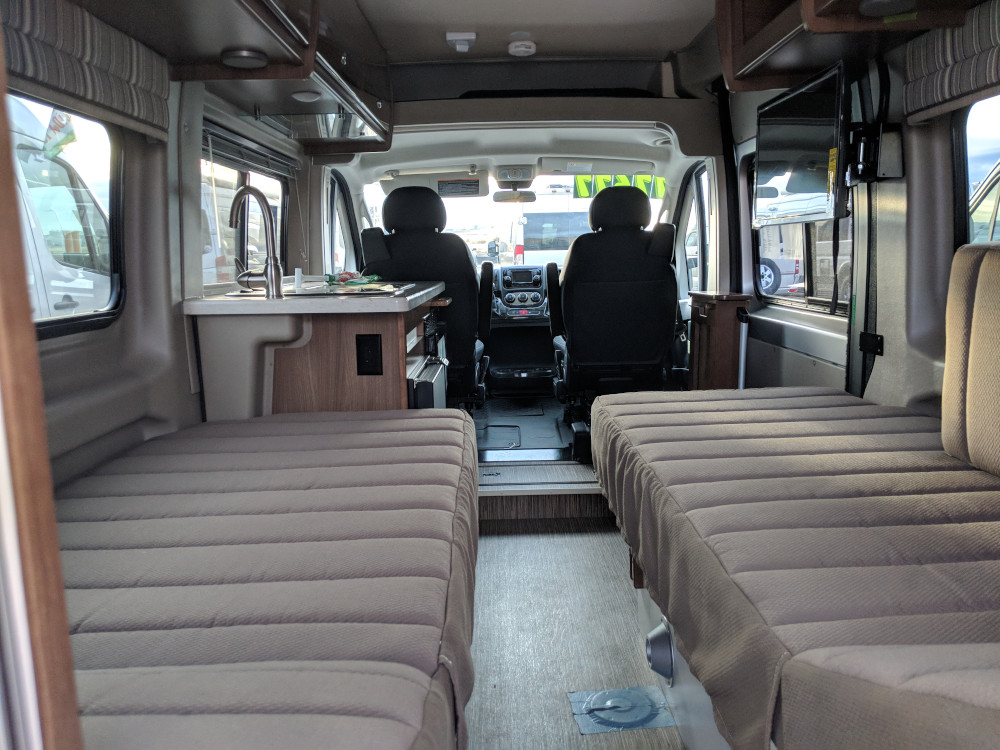 A Class B camper van is primarily a place to sleep and because of this importance, you want the bed to be as comfortable as possible. If  the van fails on meeting that requirement, it is not the van for you. So what are your requirements (both the 'must haves' and desirables)?  Are you 6 foot 1, and need a long bed? Will two single beds work for you or do you need a full size bed or bigger? For example, my spouse and I were looking at the Winnebago Travato 59k which has two twin beds each 30 inches wide and the longest is 80 inches. Fortunately, we have a studio sofa at home that folds out into a 80×30 bed, so I was intimately familiar with how comfortable I was with that size and know that the Travato 59k would be a good match. Don't skimp on this requirement.
You can get a new Class B camper van from a major manufacturer starting in the mid $70,000. If you buy a used commercial van and have it converted by a custom van builder you cost could be even  less. (I've recently seen a 2018 Ford Transit with a minimal conversion for $26,000) Or you could spend $200,000 or more. How much do you have to spend? What is your desired amount and what is your absolute limit.
Starting with the answers to  these questions will help you see the van as a tool that will help you do things before getting distracted by the aesthetics and coolness of any van. Granted aesthetics and coolness are important and you can probably make any van work for almost any purpose but it is best to go into this decision with eyes open. 
Don't start with a list of requirements. "I need lithium.", "I need a Mercedes Sprinter build" That is putting the cart before the horse (or some other more van oriented metaphor). Starting with your answers to the above questions you can build a set of requirements that is tailored to you. Keep in mind that …
Looking at vans before having a clear vision is letting
the Class B manufacturer push a vision on you
For 99.99% of us, it is too late. We already have been watching van YouTube channels, Instagram posts, and review sites and have other people's opinions of an ideal van stuck in your heads. To balance this, do the suggested work above in outlining and detailing your vision and from that narrative generate a list of requirements.
If you are buying a car things are a bit different. Your requirement list is fairly short. You need some transportation to get to work and back and to go shopping. Maybe it needs to fit your two dogs or your young children. So a Ford F150 or a Toyota Prius would fit your needs equally well and you can get what you think is cool. Vans are different. If your desire is to go on forest service roads to remote sites, and you get a heavy rear wheel drive van that gets stuck on wet grass, you've made a decision that will make your life more challenging. 
Making a requirements checklist
From all this imagineering work you have done, you can now create a requirements checklist that is tailored to you. Here is the start of one person's list
Sleeping/bed requirements: need something 80 inches long, could get by with 78

Need an indoor storage space for my bikes.

Need an office space where I could work comfortably on my laptop for a few hours.

I probably don't need lithium (I am only running my laptop 2 hrs max per day and don't have any other big energy needs)

Don't really need a microwave or a freezer part of the refrigerator.

 …
With this you have a solid basis for evaluating which van is the best for you. Good luck!